Automobile collisions can be devastating but when your automobile is involved in a collision with a commercial transportation vehicle the results are often not only devastating but often catastrophic and many times fatal. A typical automobile may weigh 3,000 to 5,000 pounds, more or less. A single axle truck will weigh at least 20,000 pounds, while a multi-axle truck can weigh between 34,000 to 80,000 pounds when loaded.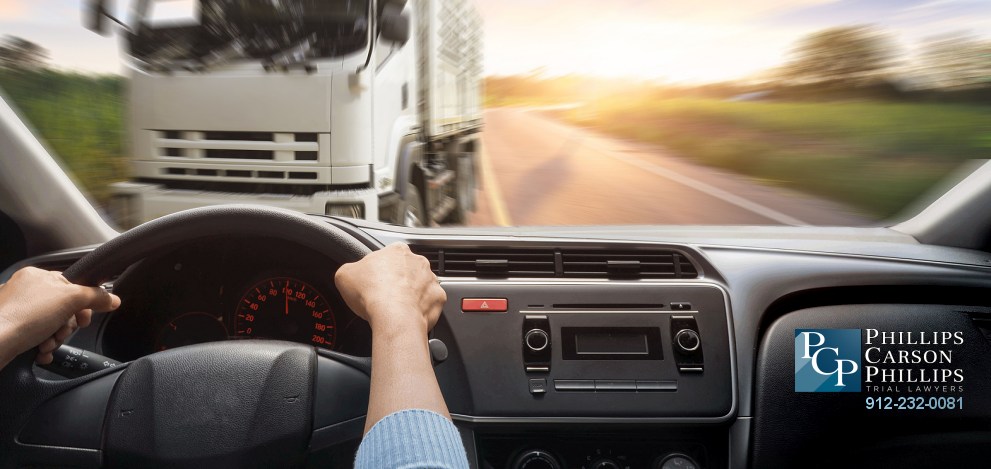 Rumbling down US highways, these commercial vehicles compete for lane space and traffic control. Truck drivers, though highly trained and experienced, have only so much they can do when sudden changes occur in the traffic flow. To make matters worse they have usually been driving long hours and are often sleep deprived.
Truck driving tragedies occur more frequently than you might imagine. Just last month there was a catastrophic truck collision on I-20 at the GA-SC border with fatal results, unfortunately taking the lives of 2 Georgia Sheriff deputies. (TRUCK DRIVER ACCIDENT NEWS LINK )
Every day our family, friends and neighbors travel up and down I-16 and I -95. On every trip they will see these mammoth vehicles travelling at speeds of 75 mph or higher. There is very little room for error.
Handling trucking accident cases involves special knowledge and experience. The lawyers at Phillips Carson and Phillips can help. We are familiar with the State imposed safety requirements and regulations on Commercial Drivers. We know how to maximize your recovery to get the best possible results. These are difficult cases and you need the most competent lawyers to help you.
Determining the liability issues in this type of accident can be complex, because there may be several parties at fault depending on the actual cause of the accident. The driver, the trucking company, and perhaps even the owners of the trucking company are all potential defendants in these cases. Phillips Carson & Phillips have the experience to sort out all the facts and determine the best plan for success in these cases. The initial consultation is always free and at Phillips Carson & Phillips you will always be our #1 priority,