Serious injuries can arise from a slip and fall accident. If you or a loved one has been injured in a slip and fall accident, you could face mounting medical bills, lost wages, and other expenses. For injuries related to a property owner's negligence, you may be entitled to compensation from the responsible party.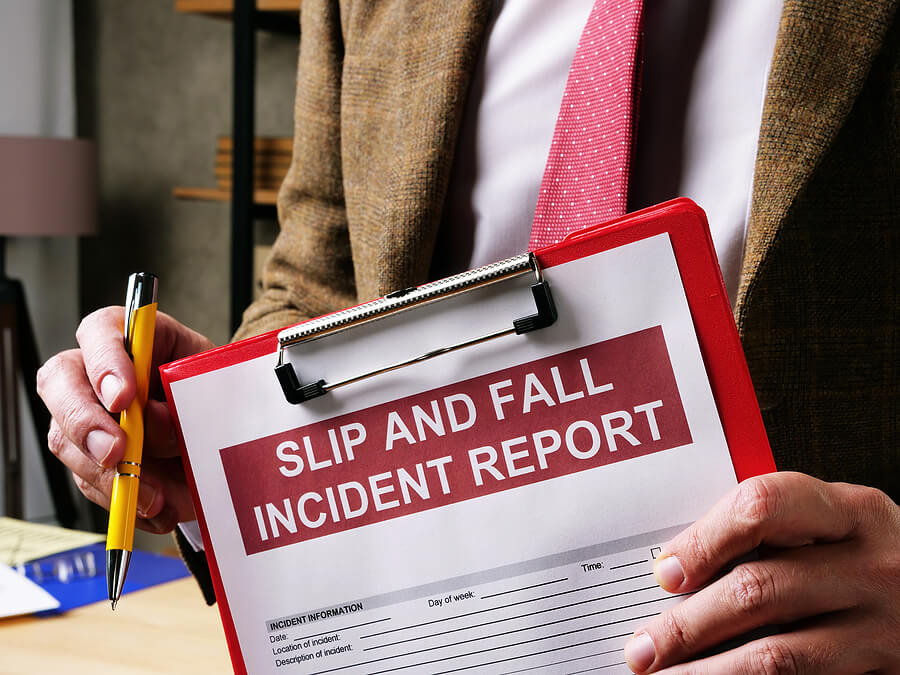 To win a slip and fall accident case, you'll need proof that you suffered injuries or losses related to the accident and that the property owner's negligence caused it. In this article, learn more about the types of evidence that your slip and fall accident attorney may request related to your case.
Types of Proof in Slip and Fall Accident Cases
There are many different types of proof that you may need to gather to support your slip and fall accident case. These include:
Accident and Incident Reports
If you slip or fall in a public place, especially in a business, there is a good chance that a manager or employee will document what happened to you in an accident or incident report. This will detail the date and time of the injury, the types of injuries sustained, the conditions surrounding the incident, and what steps were taken.
Businesses fill out these reports for their own recordkeeping purposes and to document what happened that they might be liable for. If you fall in a business and an employee doesn't fill out an incident report, it's best to ask them to. You can request a copy of this report to use as proof that the slip or fall occurred.
Medical Records
After any injury, it's critical that you seek emergency medical attention right away. You may not be able to tell if you have injuries without it. If you decline medical attention and discover a day later that you suffered an injury, it can be more difficult to prove that you didn't injure yourself in a separate incident, after the slip or fall. Therefore, it is in your best interest to seek medical attention right after your slip and fall accident in case and to keep all medical records related to your injury as possible evidence.
Write Your Own Account of Slip and Fall Accident
Separate from an incident report the company creates as part of its documentation processes, you should create your own written account of the slip and fall accident as soon as possible after the accident. Ideally, this should take place just after the incident so that you don't forget any important details of what happened. You can email this to yourself to have a time and date-stamped record of the incident in case you ever need it.
Photographs and Videos
You can use your smartphone to take photos and videos of your injuries and the conditions of the scene of the accident. For example, did you slip in standing water? Did the retail store have appropriate warnings about slippery surfaces? Was the floor in poor condition? These photos and videos could play an important part in showing the property owner's negligence.
Eyewitnesses
Did someone see you slip or fall? These individuals can be called eyewitnesses during a personal injury case to attest to the conditions that led to the fall and the response of the property owner or employees. Be sure to get the contact information of any eyewitnesses to give to your slip and fall attorney.
Law Enforcement and First Responder Reports
If the police or an ambulance were called to respond to the incident, there will be more reports that your lawyer can access to build your case. These reports will show the extent of the injuries and the date and time of the accident.
Expert Testimony
In addition to records and reports, your lawyer could decide to seek expert testimony related to your case. This expert testimony could provide credibility to the severity of your injuries and their impact on your life.
Timeliness of Evidence Collection
The most important aspect of collecting evidence is timeliness. The best time to collect evidence is at the scene of the accident and close to the time of the incident. Also the sooner that you are able to contact your personal injury lawyer, the better since they will be able to guide you through the evidence-gathering process.
Contact a Savannah Personal Injury Attorney Today
Looking for a Savannah personal injury attorney to help you with a slip and fall accident? Phillips Carson Phillips is here to help you get the compensation that you are entitled to. Contact us to schedule a consultation by calling (912) 232-0081 or using our online contact form.