Savannah is one of the most well-known and iconic cities in Georgia. It is the oldest city in Georgia and serves as the important county seat for Chatham County. It is located along the beautiful Savannah River. Today, Savannah is the 5th largest city in the state of Georgia.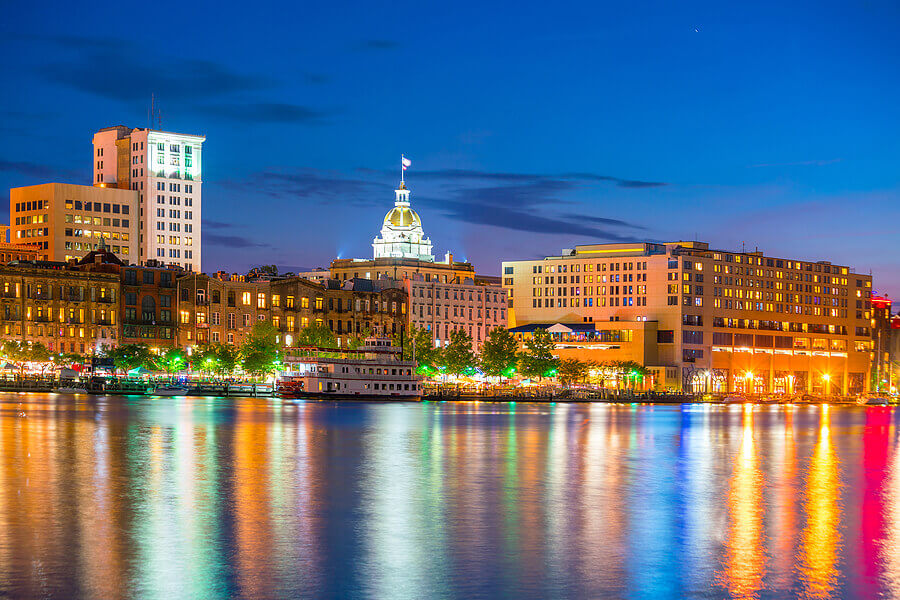 Phillips Carson Phillips is a law firm that is proud to serve the citizens of Savannah and surrounding areas. We are located at 1901 Abercorn Street, Savannah GA 31401
We Know the Law. We also Know our Community
Phillips Carson & Phillips was founded with a single mission in mind: to help the residents of Savannah and the surrounding region with their legal needs. We have stayed true to our goals. We offer aggressive representation in matters of criminal defense including DUI defense, legal malpractice, and personal injury. Our attorneys are Savannah natives, familiar with the community and the court system. We give personal attention to each of our clients and have the experience to assist them in their time of need.
Savannah History
The city of Savannah was established as a British colonial city in 1733. During the American Revolution, Savannah was an important port city that allowed goods and soldiers to travel throughout the original colonies during the war. After the country's independence from Great Britain, Savannah served as the first state capital of Georgia long before it became Atlanta.
During the Civil War, Savannah was a strategic city. After the Union captured the city during the March to the Sea to Atlanta, in 1864, General William T. Sherman gave President Lincoln the city as a Christmas present. You may enjoy a visit to the Savannah History Museum to learn more about our city's history (https://www.chsgeorgia.org/SHM)
Savannah Tourism
Every year, Savannah attracts millions of tourists who want to explore historic buildings, cobblestone streets, and delicious Southern cuisine. In particular, the Savannah Victorian Historic District is among the largest National Historic Landmark Districts in the U.S. This area prominently features Late Victorian and Queen Ann styles homes and buildings that have been preserved.
There are also a number of notable parks, plantations, forts, and historic cemeteries. Forsyth Park in downtown, with a beautiful 150-year-old fountain. Colonial Park Cemetery is the city's largest and most haunted cemetery, which opened back in 1750.
The city's 22 squares of small parks along 5 historic streets is among the most popular for visitors and residents alike. Many of the squares showcase historical monuments and beautiful landscaping.
There are also a number of religious buildings with historical significance, including Christ Church (the longest-operated Christian congregation in the state) and the First Baptist Church on Chippewa Square. Savannah is the home to one of the oldest Jewish synagogues in the United States called Temple Mickve. The synagogue offers guided tours.
Savannah is also the birthplace of Juliette Gordon Low, who founded the Girl Scouts, and Girl Scouts often make it a point to visit Savannah as a highlight of their scouting career. The Juliette Gordon Low Birthplace is also a historic site and has been operated by Girl Scouts of the USA for over 60 years.
Savannah School System
The Savannah school system encompasses a variety of public and private schools. The public school district is known as Savannah-Chatham County Public Schools. One part of this is the Oatland Island Wildlife Center of Savannah, where thousands of students can learn about different wetland and marsh habitats and observe animals, including the endangered Florida panther.
There are 4 colleges and universities: Savannah College of Art and Design, Georgia Southern University's Armstrong Campus, Savannah State University, and South University.
Savannah Airports
Just off of I-95, the Savannah/Hilton Head International Airport serves commercial travelers and the military. The Savannah Air National Guard Base is located at the airport. The airport operates a variety of seasonal and year-round flights.
Companies Founded in Savannah
Some of the most recognizable brands in the United States got their start in Savannah. This includes Savannah Bee Company, Savannah's Candy Kitchen, Leopold's Ice Cream, Citi Trends, Inc., and Bradley Lock and Key. In addition, Girl Scouts of America started in Savannah.
Famous Savannah Residents
So many famous have lived in Savannah. This includes:
Actress Dianna Agron from Glee
Actress Alicia Rhett from Gone with the Wind
NFL athlete Terry Orr
Supreme Court Justice Clarence Thomas
NASA astronaut L. Blaine Hammond
Writer Flannery O'Connor
Food celebrity Paula Deen
Inventor Eli Whitney
Unusual Facts About Savannah, Georgia
Savannah is a truly unique city. You can legally drink alcohol outside and take a to-go cup of your favorite cocktail or beer with you to enjoy while you explore the historic district.
The Spanish moss that covers the oak trees isn't really moss. It is related to the pineapple plant. Both plants absorb the water and nutrients they need from the air around them.
Savannah is known as the most haunted city in the United States. Specifically, what is known as Moon River Brewing Company was once the City Hotel. The City Hotel opened in 1821. Visitors report seeing apparitions here regularly.
If you're lucky, you can spot dolphins if you walk along the Riverfront. The brackish water is popular with a marine mammals.
Contact a Savannah Criminal Defense Lawyer
Phillips Carson Phillips is a trusted and experienced Savannah criminal defense attorney that is available to help you or a loved one with criminal charges. We know the Savannah criminal justice system. Contact us to schedule a consultation by calling (912) 232-0081 or using our online contact form.